Birthday of the Silesian Theater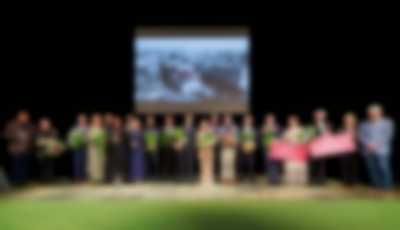 Exactly a year ago, coinciding with the establishment of the Katowice branch of Sevenet, we joined the Council of Patrons of the Silesian Theater.
On October 7, we celebrated the 116th anniversary of the Katowice scene together.
The Council of Patrons has been operating continuously for 27 years and is still a unique initiative on a national and European scale. By joining the group of patrons, Sevenet once again confirmed that culture is very close to us, even if the company's headquarters and the Silesian Theater are separated by over 500 kilometers. We have no doubt that culture is an undeniable source of values ​​that enriches us all.
We are happy and proud that we can support such an outstanding institution in further artistic initiatives - both local and nationwide. We are looking forward to the next theatrical activities of director Robert Talarczyk and the entire excellent team of the Silesian Theater. Stanisław Wyspiański in Katowice.
We have no doubt that theater is, above all, people - they create a beautiful story about the Silesian Theater. Many outstanding artists have graced the stage in the Katowice market square over the past 116 years, and the last Birthday of the Theater was an opportunity to remember and honor some of the figures associated with this place. On that day, 12 plaques embedded in the stairs leading to the theater were ceremonially unveiled, commemorating such great artists as Aleksander Bardini, Henryk Mikołaj Górecki, Tadeusz Łomnicki, Józef Szajna, Tadeusz Kantor, Jerzy Jarocki, Wojciech Kilar, Kazimierz Kutz, Gustaw Holoubek, Irena Kwiatkowska, Ignacy Gogolewski and Lidia Zamkow. The following years will bring more nameplates, and the aim of this new series is to make as many people as possible aware of how great artists created the history of the most important stage in the Silesian Voivodeship.
During the Theatre's Birthday, the Council of Patrons awarded two actors for the ninth time for special artistic achievements in the previous theater season. This year, patrons honored Violetta Smolińska and Roman Michalski. Congratulations on the awards and we are full of admiration for the acting skills of these outstanding artists!
The joy is even greater because the artists honored by the Council of Patrons soon afterwards won distinctions in the survey "The best, the best, the best in the 2022/2023 season", an annual publication of the monthly "Teatr", which lists the most important theatrical achievements of the last season.
On behalf of the Council of Patrons, the awards were presented to the actors by Marek Kornas, vice-chairman of the Council of Patrons and head of our branch in Katowice.